Have you seen my YouTube episode on IBS breathing? If you haven't I highly recommend you check it out, because I share with you a technique I teach in the Conquer IBS, Reignite Your Life program and it's a real game-changer.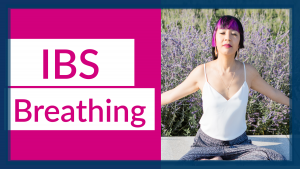 In the video I share my own personal experience with how a regular breathing practice changed my life in only a short period of time, and I wanted to share two other quick stories with you too:
One of my CIRYL clients has a fear of flying. It's a pretty common fear, whether you're afraid for safety reasons, for loss of control reasons, for takeoff and landing turbulence or otherwise. She's noticed that since starting her regular breathing practice that she no longer feels anxiety on airplane. And in fact, it's even helped calm her nerves before doing presentations in front of large groups of people!
Another of my acu clients could be described as an anxious guy, and his Apple watch has notified him more than a few times that he's stopped breathing during particularly stressful times. Although he told me he doesn't believe in "woo-woo", I convinced him to start a nightly deep breathing practice – because breathing is a natural physiological function – nothing woo-woo about it. The next week I see him and his sleep quality has improved, and he's even looked into meditation!
This is the power of breathing. And although the stories above aren't IBS-related, stress and anxiety certainly impact your IBS. So take a moment and tune in if you haven't already, then start your breathing practice, and check in with me in the Facebook community in a week and let me know how you feel!
Oh, and in case you missed it, I've officially launched the Conquer IBS, Reignite Your Life! self-study program and if you get in on it now, you'll get a discounted price AND extra bonuses (including live support from me).